GK - 10 Cable mark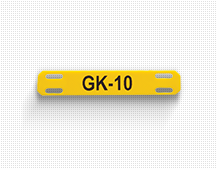 Size: W 45 x H 8 mm
Rec. dimension: < 10 mm Ø
Number of markings per card: 10
Colors: yellow, white, red, blue, green, brown, grey and orange
Material: Halogen-free plastic
Printed text
The text size is automatically adapted to the number of characters. Up to around 20-22 characters works well and is still fully legible. Your company's logotype can also be printed on the card. The text on the card can also be printed in two rows, but not if you order via the Internet. Contact us on +46 525140 50 or send an e-mail to This email address is being protected from spambots. You need JavaScript enabled to view it. and we will find a solution .
Assembling Hint
Each individual marking can easily be removed from the card. This is a clever and important feature! Each marking remains on the card until it is to be used. Fitting using tie strips. Cables that are less than 6 mm in diameter are attached using both holes and one tie strip. Only one hole is used for thicker cables or pipes. This saves expensive fitter time!
Materials information
All Gekab's products use the same high-quality materials. The material is a special ABS blend, which has properties that are very well suited to this type of product. No halogen gases are released in the event of fire.
< 25 mm Ø